Alena
(ID: 1197055)
Offline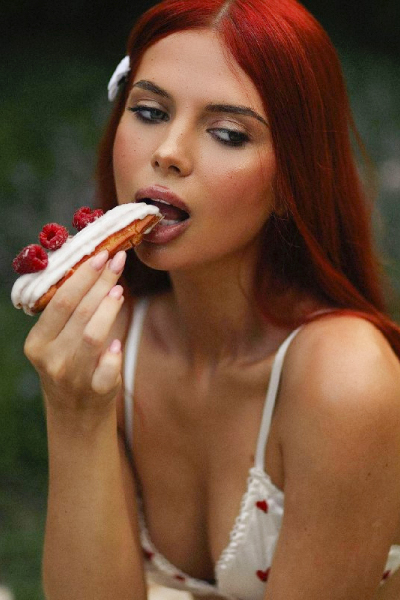 Status:
An intelligent and educated girl is looking for a man who is ready to...
Country:
Ukraine
City:
Odessa
Age:
25
Weight:
110 lbs. (50kg.)
Height:
5'6" (1.68m)
Languages:
English, Ukrainian
Body type:
Thin
Hair color:
Red
Hair length:
Long
Eye color:
Gray
Ethnicity:
European
Marital status:
Single
Children:
No children
Life priorities:
Creative realization, Family, long term relations, Maximum of sex
Smoker:
No
Drinker:
No
Financial position:
Stable income
Place of residing:
Apartment
Gallery
credits will be charged to open each gallery
Our feelings are burning. (10)

Let's burn peace together. (8)

Enjoy me!💋❤️💦 (11)

Love burns in us.💦 (10)

Let's burn in love together (8)

Like fire in the night... (11)

Sexual Chemistry💋❤️ (7)

Let's burn in our arms💋💋💋 (7)

I love you madly! (8)

Ready to turn up the heat? (7)

Seeking fiery connections.😈😏 (7)

Krepasnaya🔥😏 (10)

😍🔥 💋💦 😘🔥 💥🔥 (7)

Our passion on the body! (7)

Stockings make me fearless. (7)

Stockings burn with desire (8)

Hot stuff - your weakness? (7)

😈 Devil! (8)

🔥 Burning! (11)

dive into each other?! ) (11)

Dream ❤️ (9)

Hot & Alone (10)

Fire emote (7)

Magic of red drops (7)

Red whirlwind (7)
Questionnaire
Looking for : The ideal man for me is the one who knows how to be a support and a best friend. I am looking for a partner with whom I can share joys and sorrows, who is ready to take responsibility and care for the family. I like men who have a sense of humor and are able to make me laugh to tears. Life is too short to be serious all the time, so the ideal man knows how to cheer up in any situation. It is important that my ideal man is purposeful and ambitious. He must have his dreams and goals and be willing to share them with me. Together we can make our dreams come true. I like men who respect and appreciate a woman next to them. The ideal man should be gallant, caring and willing to make small pleasant surprises to show his love and attention.
About me : My main hobby is photography. I love capturing moments and preserving the beauty of the world around us. I like to experiment with different angles and edit my photos to create unique and memorable shots. Besides, I love music. I like to listen to various genres, from classical music to modern hits. Music helps me relax, tune in to the right mood and enjoy the moments. I am also committed to reading and I think that books are a great way to immerse yourself in other worlds and expand your horizons. I prefer to read a variety of genres, including novels, fantasy and non-fiction books. I am also fond of travelling. I love to explore new places, experience different cultures and meet interesting people. Traveling helps me expand my horizons and open up new possibilities. If you have common interests or would like to meet someone who shares my passions, I would love to hear from you. Let's create special moments together, enjoying our common interests and exploring the world around us.
Qualities that I appreciate in people the most : Here I am on my virtual hunting path - looking for a man who can "catch" my jokes and share the goodness of his heart! 🎣🧡 Say, will we have a "laugh contract"? You laugh, I laugh, and our endless swing game begins? 😄 But honestly, I'm sure you have a "precious artifact" - a good sense of humor! Let's combine our laughs and create a virtual tandem show "Laughter and Kindness" - it sounds like the hit show of the future, right? 🎤🤣 And now, a real sense of humor test - what is your favorite joke? If he is funny, then you definitely fit into my search! 😉
My goals for the future : Future plans? Well, who would have thought that "Beautiful Model from Odessa" wants to conquer the whole world with her beauty? 🌎👑 But just imagine how cool it would be to leave autographs on the clouds, right? ☁️😄 And now the most important thing: I dream that in my future there will be not only a modeling success, but also a wonderful man who will not only support me, but also share a dose of laughter and joy at every step! 🕺💃 As for laughter, I understand that a person with humor is like the sun on a cloudy day: it is always nice to see and warm in the soul! 🔆🤣 So I'm ready to cheer up with you - let laughter and joy be our constant companions! 🎉😁
My travel destinations (past or future) : But it's literally "Around the world with a smile"! 🌍😄 Well, let's pack our virtual luggage, put on surprise like a travel ticket, and let's go - our virtual journey begins! 🚀✈️ I imagine seeing sunrise on a beach in Hawaii, having lunch at the Eiffel Tower and having dinner in Tokyo - it's all virtual, but how cool, right? 🌅🥐🍣 Well, the most important question is what kind of "tourist luggage" do we take with us? I have a package of laughter, a container of positive, a backpack of surprise and a dose of creativity! 🎒🎉 Traveling with a smile is a real art, and I am ready to share this art with you! So, put all your dreams into a virtual suitcase and set off on our virtual world tour! 🌎🌟
I spend a lot of time thinking about (or my dream is) : Let me tell you about my amazing life in the world of fashion and creativity! 🌟👗 So, I'm a model - and my life is like a palette of bright colors! Every day for me is a chance to create something unique and incredible. I'm like an artist, but instead of a canvas - this is my body, and instead of paints - this is style, clothes and accessories! 💃🎨 I take orders and develop images on my own - it's like an adventure in the world of fantasy and possibilities! Every detail is like a drop of inspiration, and I am ready to go to the very tips of my nails (and not only) to create unique looks! 💅✨ My days are filled not only with beauty, but also with creativity - this is both my hobby and my work. And when I can combine my passion and occupation, it gives me incredible satisfaction! 🔥🎉
My favorite movies, books, music, shows : My life is like a playlist filled with various musical moods! 🎶🎧 I love listening to music that intertwines with my emotions like notes. So one day I can plunge into the world of live rap beats, and the next I can ride the wave of pop rhythms! 💃🕺 So, my music is like a magic potion that can cheer you up and add some positivity at any moment. I often choose music depending on my mood - from energetic dance to slow melody for thoughtful moments. 🌟🎉
My favorite food : Yes, I confess - I am a passionate chocolate lover! 🍫😄 Faithful companion of stories, cozy evenings and, of course, long conversations with yourself. Oh yeah, and without chocolate, I can't even imagine what the point of leaving the house is, right?! 😂 Actually, I'm not that into chocolate, but a little chocolate never hurts, right? It's like a note of joy in a gray reality. Classic food is my comfort zone where I can enjoy familiar flavors and take a little culinary vacation from my chocolate passion! 🍔🍕 So, if you are ready to share a single step with a person who cannot imagine life without chocolate, let's continue this chocolate adventure in our conversation! 🍫🤝
Pets in my life : I have such an animal mood that even a dog and a cat would feel jealous! 🐶🐱 But, you know, when I come home, it's a real celebration - I play with them, as if the party had just begun! 🎉🐾 But here's the catch: sometimes my life is like a globe - long-term contracts in different cities, new places, but at the same time I remain alone on this life path. There are no animals yet, but there is this great desire - I dream of a cat! 🐱💫 And now imagine what a fun addition to my life it would be - cat furry adventures on one side, and on the other - my unpredictable life in different cities. I think it would be a duet with wonderful harmony! 😸🌍 So, if you are ready to share my ups and downs, and in addition to this - dream about cats together, let's continue our story in this virtual world! 🌈💌
Talking about sports : You know, for me the gym is not just a place, it's my own "sports wonderland"! 🏋️‍♀️🏆 Here I am like a hero with a red cape, but instead of a cape, this is equipment for training, and instead of a city, there is a hall where I can realize my super goals! 💪🦸‍♀️ There are days when I go to the gym and my muscles happily greet me with imaginary applause. After all, here I create my own magical victory over gravity and gravity! ✨🔥 Sometimes it seems that the gym is my second home, and dumbbells are my best friends. They tell me: "Yes, you can!" - and here I am ready to conquer the heights of the fitness world! 💃🌟
The five things I can't live without : Five of my incredible life companions, without which even a day is not considered real! 🍫📸🎶👨‍👩‍👧✨ Chocolate is my reliable portion of joy that makes even the most ordinary day magical! He is like a drop of inspiration, which suggests: "Yes, this moment is worth a holiday!" 🍬🥳 Photo sessions are like a kaleidoscope of memories, where each picture is a piece of happiness, saved for eternity. And yes, the camera is my best friend and invisible adventure companion! 📷🌟 Music is my dynamic playlist of emotions that will always adjust to my mood. She is able to give a dance even in the most ordinary situation and warm up the heart in any weather! 🎵💃 A family is a real wealth that cannot be bought for any money. After all, when they are around, even the most ordinary evening turns into a mini-holiday! 👨‍👩‍👧‍👦❤️ And the dream of the future is like a luminous star in the night sky, which suggests that there are many amazing moments and roads ahead that we have not yet discovered. She motivates me every day to move forward, no matter what! 🌠🚀
Job : Model