Viktoriya
(ID: 1219519)
Offline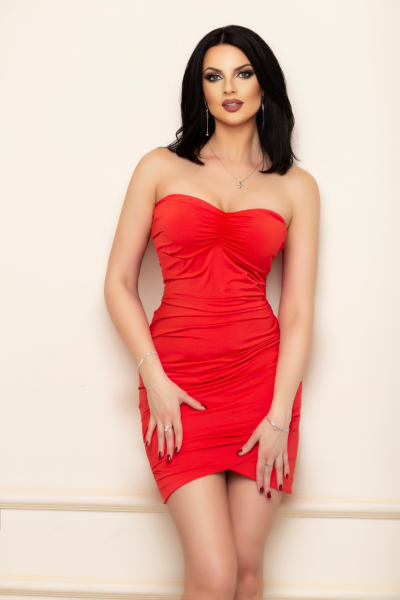 Country:
Ukraine
City:
Kiev
Age:
38
Weight:
125 lbs. (57kg.)
Height:
5'10" (1.78m)
Languages:
Russian, Ukrainian
Body type:
Thin
Hair color:
Black
Eye color:
Green
Ethnicity:
European
Marital status:
Single
Life priorities:
Family, long term relations
Smoker:
No
Drinker:
No
Children:
1 child
Gallery
credits will be charged to open each gallery
Boudoir (9)
Questionnaire
Looking for : Are you a man, a mortal human-being, but confident and strong, daring to cross the ocean to his lady? Then here you are, right where I am looking for you and only for you. You are sincere, you are real. A friend, a husband, a lover. You have dozens of descriptions, but only one face - the face I want to see day by day for eternity. You know that I don't want a martial supporter, but a supporter for my soul, because we can't count love in money - we count it in hugs and kisses. From which another quality of yours comes - I wish you to be passionate and sensual... You know why, right? Write to me and you will find the answer...
About me : Victoria... Victory. The Goddess of victory, strong and blessed. Is it me? Yes, it is, when I am at work, a business-woman with a sharp mind! But love is never a work... It is the guardian light for which I am searching, and the moment I find it - I will go and take it. That is why my nick-name is Aurora - the Goddess of sunrise, which gives me hope. Look at my pictures - do you see those flashes in my eyes? Do you feel them going through your body, making you feel special? If yes, it means you understand me, which gives a great chance for me to like you, too. When I was a teenager, I spent days reading books by Greek philosophers, and dreamed of being a lady in toga in Ancient Greece. Mother used to tell me that I better stop dreaming and start living... Now I am a mother myself, and I turn my dreams into life, which leaves me less time for reading. You know what it means? That I don't want to spend month by month in reading your letters - instead I wish to meet you and show you how those flashes in my eyes can work for real!