Irina
(ID: 1090211)
Offline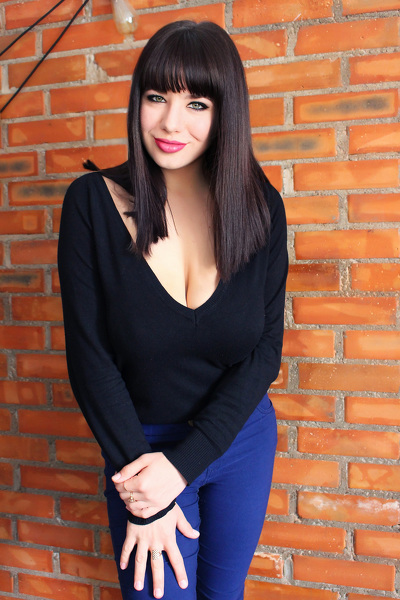 Status:
Hello, it is me!...
Country:
Ukraine
City:
Nikolaev
Age:
30
Weight:
140 lbs. (64kg.)
Height:
5'6" (1.68m)
Languages:
English, Russian, Ukrainian
Body type:
Athletic
Hair color:
Brown
Hair length:
Averages
Eye color:
Blue
Ethnicity:
European
Marital status:
Single
Children:
No children
Place of residing:
Apartment
Life priorities:
Family, long term relations
Smoker:
No
Drinker:
No
Financial position:
Stable income
Gallery
6 credits will be charged to open each gallery
PASSIONATE RED (8)

Look how it sits on me =) (10)

⭐️⭐️⭐️Nice moments⭐️⭐️⭐️ (7)

Different Positions) CHOOSE) (10)

So KISSABLE Lips (7)

MY HISTORY (8)

IT WAS SWEET TIME (7)
Questionnaire
Looking for : Why am I here? Of course for to try to find my love. Some people believe it is possible to live all life long without love and do not believe in this feeling, but not me! I believe and want to love and be loved. I imagine near me strong, kind, sensitive, smiling, lovely man. I want him to remember about romantic things which make relations more pleasant. And I do not talk now about gifts. But warm words, compliments, interesting actions, breakfast to a bed, some sweets - I will appreciate a lot. I love kissing, I love dancing, I love walking hand in hand but I miss it in my life so I am here. Waiting for him ...
About me : Hello everybody. My name is Irina. You can call me simply Ira if you wish. I am usual lady that lives normal life. I have family, I have job, I have hobbies, wishes and so on. I am teacher. I love children and I like what I do for work. I know I am not slim one lady, I have big forms from the nature so if you are fan of skinny forms than I am not your dream. But despite my forms I want my man to notice me as a person. I know a lot of things about life and can talk to any topic. I develop through the life and expect the same from my man. So please read my profile and write me if you have a questions.
Qualities that I appreciate in people the most : I admire those with a strong will and determination, those who never give up even in the face of adversity. I admire those with a good work ethic, those who put in effort to stretch and grow. I admire resilience – the ability to learn from difficult experiences and come away wiser, stronger, and better equipped to face the future. I appreciate kindness, compassion, and respect towards others – qualities that can help us build meaningful relationships and create a better world. Lastly, I value authenticity and integrity – the courage to always be yourself and take responsibility for your words and actions.
My goals for the future : Setting goals is one of the most important things we can do in our lives. Having clearly defined goals can provide us with direction and motivation. Goals give us something to strive for, and they can help us stay on track even when times get tough. When setting goals, it is important to think about what matters to us most and what makes us truly happy. I want to become a good mother and wife, succesfull in family and in my work.
My travel destinations (past or future) : I was in some cities in Ukraine, but once city is my favorite. As I came in Lviv, Ukraine, I had no idea what to expect. What I found was a city full of charm, culture and love. Everywhere I went, I felt welcome. The locals were proud of their city, and were always happy to show me around. From the ancient streets to the bustling marketplaces, it was a joy to explore. One of the highlights of my trip was visiting the famous Lviv Opera House. The grandiose and elaborate architecture was truly awe-inspiring. Inside, the performances were electric and I was swept away by the atmosphere. It's easy to see why this is one of the most beloved opera houses in the world. I also fell in love with Lviv's many cafés and restaurants. I sampled local dishes like varenyky and salo while savoring cups of aromatic coffee. All of these delightful experiences made my trip special and unique. Lviv truly stole my heart. Everywhere I went, I felt right at home. I cannot wait to return one day and experience more of its charm.
I spend a lot of time thinking about (or my dream is) : Dreaming of a world where love reigns and peace persists is a beautiful ambition. Love and peace are two of the most important values we aspire towards on a collective level, as they both define a society that is tolerant and understanding. Imagine a life of joy, acceptance and compassion; one that is free of discrimination and hate. A world where people of all backgrounds and beliefs can come together and live in harmony and understanding. Such a dream requires effort, sacrifice, and openness; but it also provides the opportunity for everyone to thrive, create, and live life to the fullest. Let this dream of love and peace be the beacon that guides us all forward.
My favorite movies, books, music, shows : Movies: 1+1 (Intouchables), Little boy, Togo, A Dog's Purpose, Constantine, Marvel films Books: Bernard WERBER - EMPIRE OF ANGELS, Robert Asprin - MythAdventures Music: electronic music, blues and jazz Shows: The Big bang theory, Peaky Blinders, Modern family, Sherlock, Game of Thrones
My favorite food : My love for seafood began with a seemingly simple pleasure - sushi. From the very first bite, I was hooked. The freshness of the fish, the lightness of the rice, the tang of the seaweed - it was all so perfect together. I love how adaptable sushi is - whether it's the classic salmon and avocado roll or something more creative like shrimp tempura, you can create so many different and delicious combinations. Whether I'm dining out or making it myself at home, sushi is my go-to food and a constant reminder of how remarkable the bounty of the sea can be.
Pets in my life : I have always been enamored with creatures of all shapes and sizes. From the soaring wings of a bird to the eerie eyes of a frog, I find beauty in all of them. But my true joy is for my pet cats. Watching their furry little bodies scamper about brings me a warmth and joy like no other. My cat rests in my lap, cooing softly as I pet her fur. She looks up at me with her big, trusting eyes, and I feel so connected. I understand that my feline companion trusts and loves me, and I return it tenfold. I wish that everyone could experience the joy that a pet cat brings, because my heart aches for those who don't. They really do bring so much contentment and companionship. It's a beautiful relationship that I feel privileged to be a part of.
My hobbies and what I'm good at : Cooking is a passion of mine - from whipping up a quick dinner for my family to trying out more complicated recipes, I love experimenting with different ingredients and flavors. Doing sports is a great way for me to stay active and to relieve stress. Whether it's running, playing basketball, or swimming in the pool, working up a sweat helps me feel energized and clear my mind. I also enjoy going on walks with my friends. Taking a stroll in the park or around the neighborhood allows us to catch up while also getting some exercise and fresh air. There's nothing quite like being with good company while taking in the beauty of nature.
Talking about sports : No matter how small my home, I try to make the most of it. I may not have access to a gym or a sports field, but I make sure I get enough activity. I try to stay active by walking for an hour or so each evening. I also do exercises like sit-ups and squats to encourage good muscle tone and strength. I'm quite creative when it comes to lifting weights - I use full water bottles as dumbbells. I may not be able to run a marathon anytime soon, but I'm determined to stay fit and healthy.
The five things I can't live without : 1. Family: Those closest to me, providing me with a sense of community and support have been essential throughout my life. 2. Nature: Taking a walk in the forest or a beach keeps me grounded and inspires reflection and creativity. 3. Adventure: Exploring new territories, cultures, and lifestyles has allowed me to experience a wide range of emotions and learn more about my own true Self. 4. Music: Music is a universal language, a way to transcend our everyday struggles and reflect on the beauty of life. 5. Gratitude: Reminding myself to be grateful for what I have helps me stay optimistic, even when things don't seem to be going my way.
You should message me if : Yes, you have to write me if you read my profile and was quite taken by it. The depth of my thoughts and the variety of topics that we can explore is truly inspiring.
Job : Teacher