Nataliya
(ID: 353300)
Online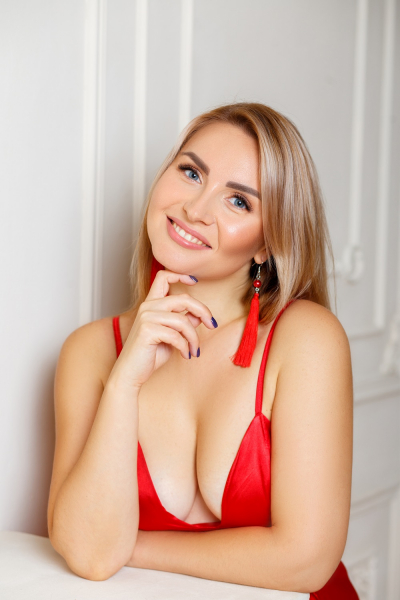 Country:
Ukraine
City:
Dnipro
Age:
37
Weight:
140 lbs. (64kg.)
Height:
5'4" (1.63m)
Languages:
English, Russian, Ukrainian
Body type:
Thin
Hair color:
Light blonde
Hair length:
Averages
Eye color:
Blue
Ethnicity:
European
Marital status:
Divorced
Children:
No children
Life priorities:
Emotional balance, Family, long term relations, Maximum of sex
Gallery
6 credits will be charged to open each gallery
Mystery girl! (8)

Angel or demon?? (10)

Dreams for you!! (10)

Sweet story!!! (10)

YOUR enjoyment!! (10)

Tenderness.. is.. (10)

GENTLE or rough!? (10)

♥Home PHOTOS!♥ (10)

Naughty girl!! (10)

HOW ABOUT THAT?? (8)

YOU MUST SEE THIS!!! (8)

HOT AQUAPARK!!! (10)

Open it, you won't regret it (11)

PRIVATE PHOTOS! (9)

YOU ONLY LIVE ONCE! (10)

THIS IS ONLY A NEED TO SEE!! (9)

My hot time!!! (9)

Red in me!! (9)

FAST, SIMPLE AND VERY (10)

HOT HOT HOT!! (10)

It's me again!!! (10)

HOT GIRL NATASHA! (10)

SUMMER IN ME!!! (8)

❤️❤️ try today! (9)

CHOICE FOR YOU! (10)

Feel completely... (8)

HOT OR HOTTER? (8)

NEW ME! (10)

THE FORBIDDEN FRUIT (10)

SOMETHING LIKE YOU! (9)

❤️ TAKE ANOTHER LOOK!!! (9)

SURPRISE FOR YOU!!! (10)

ARE YOU READY TO SEE MORE? (10)

👄 👄SWEETER TO SUGAR! (10)

YOUR NEW YEAR'S DREAM! (10)

YOUR HOT SNOWGIRL! (10)

DO NOT MISS THIS !!! (8)

TRICK OR TREAT!!??? (9)

🍭🍭🍭 SWEET GIRL! (9)

OPENING DAY !!! (10)

♥ FORBIDDEN FRUIT ♥ (10)

PERFECT AGE FOR THIS! (9)

HOT .... JUST MELT (9)

PLAY AND GO (8)

NOT BORING GIRL (7)

LICK YOUR FINGERS AFTER (10)

YOU LOVE BIG LIPS (8)

WOW...I FOUND IT (9)

CAUTION ... HOT! (10)

From this you will melt ... (10)

This have not happened before (11)

Ignite your mind with this (10)

If to be, then to be the first (9)

Your hot panther ... (10)

Black and red (10)

try it ... (10)

Wonderful time (10)

Do you like surprises? (10)

Are you ready to kiss me? (9)

One day of my life (10)

Do YOU want to try ME? (11)

Open up my desires! (10)

Lady in Red (11)

READY FOR EXPERIMENTS (10)

nothing to hide (9)

WHY AM I HIDING THIS FROM YOU? (7)

GRRRR WOMAN (8)
Questionnaire
Looking for : He must be physically strong)). He must also be older than me, at least 50 years old, the older the better, BUT !!! not older than 70 experienced and wise to learn from him. He must have a tough character and a good sense of humor. a gentleman with good manners, an intellectual with a high IQ level It is important that he does not forget that the woman who is nearby is waiting for compliments. I want to feel that he loves me. Necessarily kind and caring!) Haha !!! Are there such? NO??? And I am looking and I will find !! He must be a person who is respected in society. We must have common interests and topics of conversation. You should be comfortable with him. I don't want to change a person and I don't want him to change me. Growing and developing together is the main thing. I WANT TO BE NEXT TO him-QUEEN! I WAIT FOR YOU - my KING!
About me : I am perfection itself, from smile to gesture.
Qualities that I appreciate in people the most : the Main qualities in a person I believe honesty and loyalty. And I appreciate the dedication. Helping people is always a pleasure and interesting to talk to. They have clearly set goals and plans for life. Communication with such people inspires me.
My goals for the future : I Have several of them: 1.Skydiving-feel the power of gravity and see the world from another point of view. This is a great way to dilute their monotonous life, get a huge adrenaline rush and priceless memories. 2.To make a spontaneous trip Without planning every detail, to pack all the necessary things and went into the unknown. I want to do it off the cuff.And once the journey ends, I'm sure. I can understand that I have learned incredible life lessons that I never learned while on vacation with the seal "all inclusive". 3.Spend a night under the stars-as for me, looking up at the night sky is the best and easiest way to an extraordinary high. It's a great idea to think about life, plans and future. I want to pitch a tent in the nature, make a fire with you and spend a lovely evening outdoors.
My travel destinations (past or future) : I have never been abroad but always wanted to visit an unknown country to learn the culture and custom. I love the beautiful nature and sea views.I prefer the sea and mountains, historical places.More important to me is not so much the amount of interesting places where you can get unforgettable impressions and emotions.
I spend a lot of time thinking about (or my dream is) : I always believed that in life the most important is to believe. Just need to be sure that will play in the life of a certain role — then you start to notice certain signs of destiny and grow into this role. And that's fine. So certain people are born then grow a particular dream. Dream wants to be wanted. Dreams have a lot in common with sleep. If you begin to doubt, then you notice that there is no sleep there. Sometimes it's just important to let people dream...
My favorite movies, books, music, shows : I am a very light and airy personality, so they prefer romance. The most beautiful and inspiring story for me is "Cinderella". I love her since childhood. So, this movie is bright, honest and full of quiet joy coming from the main character. My music depends on my mood, I listen to anything - I can listen to classical music in the long autumn evenings, or the mobile music, when you're cleaning your apartment.
My favorite food : pasta with shrimp in a creamy sauce,rolls,pizza with seafood. And fruit - I can't live without bananas.
Pets in my life : I really like cats and dogs. Pets save from loneliness and stress. And they are also able to teach us important lessons in life - provided, of course, provided that we observe them carefully and love them for who they are. In the near future I plan to get a cat of the breed oars-ears.
My hobbies and what I'm good at : I really like to dance, in the dance I open completely and you can feel me. Dancing is my life! I also like to create video films from photos, adding music and various effects to the film, this is a great memorable surprise for all my relatives and friends. I am glad to receive pleasant emotions from my surroundings.
Talking about sports : I like to play sports and go to the gym. I like to feel good and comfortable. Therefore, I also run in the mornings, when it is still very quiet, only the sound of my sneakers on the asphalt is heard. Here I can be with myself, look where I want, dress as I want. Running gives me the opportunity to forget about everything and I get rid of all thoughts .. no need to worry about anything ... I do not play games, there are no rules ....
The five things I can't live without : air, food, communication, love, relaxation.
You should message me if : if you, like me, have no restrictions and limits in life, you are a cheerful person and love life, prefer romance and walks in the city at night.
Job : Sales manager